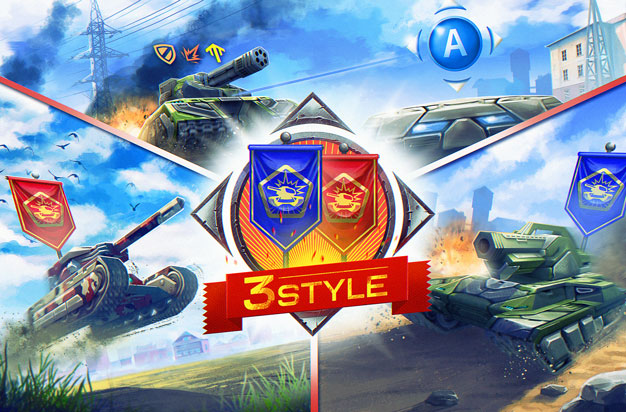 Tankers! The 3STYLE battles are over and we have a winner!
Now, it's time to review the tournament.
After the play-off results, the semi-final matches featured Epic Guards vs Vavilon, and Invincible vs VIP.
In the first fight for the title, the notorious Epic Guards defended against Vavilon.
Despite choosing a format familiar to them, XP/BP, Epic Guards did not seem too confident on the Barda map. However, they still managed to hold their ground against their opponents and secure a tie in the first round.
The rest of the match continued on the same map, but with the CP format instead of CTF. This time Vavilon confidently took the lead, playing aggressively right up to the end of the game. Having a clear advantage over Epic Guards in their chosen format, Vavilon got through to the final, leaving the guys from Epic Guards to fight for the 3rd place.
The next battle was between Invincible and VIP. Surprisingly these teams, without any influence from their predecessors, chose the same map — Barda — and the same formats — XP/BP for the first battle, and CP for the second battle.
In the beginning of the first round, VIP experienced technical difficulties and were forced to play this match without their leader, which clearly affected their gameplay. Of course, Invincible took full advantage of the situation and won all four rounds, leaving their opponents to battle for the 3rd place.
The battle for the 3rd place was streamed live on Sunday evening, and featured Epic Guards vs VIP.
From the first few minutes of the match, it was clear which team was serious about securing the 3rd place. During the match, Epic Guards were unexpectedly experimenting with weapons and tactics, but never really managed to find the optimal combination. With a crushing score of 4-0, the match ended in favour of VIP. We congratulate them on a well-deserved victory!
In the grand final, Vavilon and Invincible went head to head for the title.
The first half of the battle took place on the Serpuhov map, which due to its size, proved tough for both teams and as a result, did not yield a winner. Next, the teams moved on to the familiar CP format in Barda. The round was an intense struggle. Both teams played at their best, taking advantage of the bonus boxes and occupying points quickly. It was only in the last few minutes of the final round that Vavilon managed to take charge and push ahead of Invincible, securing a well-deserved victory in the tournament.
With their skill and persistence, Vavilon won the championship title and the main prize of the tournament — a paint with 18% protections against all weapons and mines, the legendary Acid!
A huge congratulations goes to all the teams that participated in the 2015 3STYLE tournament, especially our champions Vavilon!