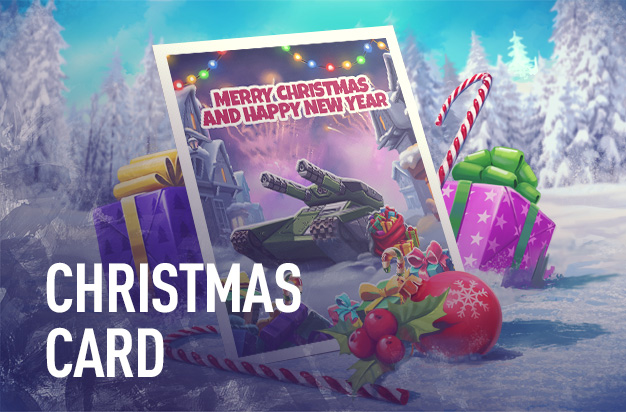 Hello, tankers!
As you know, the best present is a handmade present. Letters and craftworks made by us include our heart and soul in them.
In honor of the approaching New Year holidays, we give you the opportunity to create your own greetings card.
The artworks are split into two categories:
Digital cards. Create your greetings card in an image editor or create a 3D model with the help of specialized programs.
Physical cards. Draw your greetings card on paper or make a model of something out of handy materials.
Important! The art should be related to "Tanki Online" and to the New Year celebrations.
Doubly as important! Do not forget to include your nickname and the year 2021 in your artwork.
So, to participate in the contest you should:
Choose one of the two categories and create an artwork.
Upload a photo of it (for example on imgur.com).
Send us the link to your artwork through the special form. Do not forget to include your nickname and the category.
We will choose the best artworks in each category and reward them with cool prizes.
1st place: 30 000 crystals, 1 000 Tankoins, 30 Containers and a skin of your choice which is available from Containers.
2nd place: 25 000 crystals, 900 Tankoins, 25 Containers and an animated paint of your choice, which is available from Containers.
3rd place: 20 000 crystals, 800 Tankoins, 20 Containers and a shot effect of your choice.
4th place: 15 000 crystals, 700 Tankoins and 15 Containers
5th place: 10 000 crystals, 600 Tankoins and 10 Containers
And, for the first time ever, every prize winner will receive an additional prize – 100 stars for their challenge!
Authors of the artworks which are positively rated from the judges, will receive 5 000 crystals and 5 Containers.
The entries are accepted until January 4th, 15:00 UTC.
The results will be published during the next day.
If you want to participate in this contest you must agree with our General Rules for Contests and Promotions.
Get some oranges in your hands and let's go – create! Good luck!
Discuss in the forum