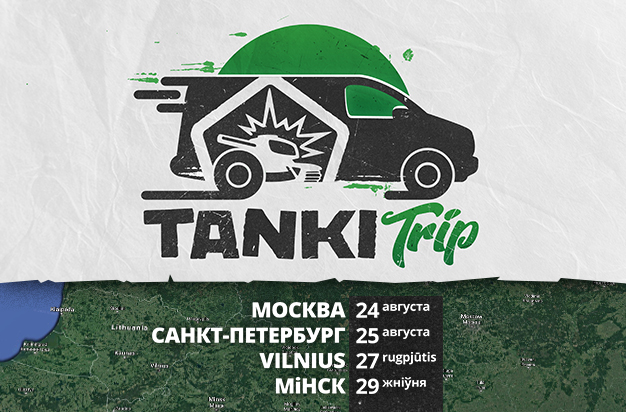 Tankers!
Our intrepid team of community managers is about to set out on the Tanki Trip 2019 — a journey that will see them visit four fantastic cities, and have a great time meeting hundreds of tankers from all around the world.
One of the meetups will be held in the gorgeous city of Vilnius in Lithuania.
This means that if you live in Europe, you won't even need a Visa to come to the meetup (restrictions may apply – please consult your official country representative).
The meetup in Vilnius will be held on August 27 at 18:00 local time.
IMPORTANT: Don't forget about the Tanki Trip Bundle in the Shop. This bundle contains:
The Tanki Trip 2019 exclusive paint
5 Containers
50 000 Crystals
300 TANKOINS
Additionally, when you buy the bundle, you'll be given a QR Code. Present this code (as a printout or on your phone) at the meetup and you will be awarded a Black Container with a random XT Skin from the ones missing from your collection. And if you have them all, you'll get a replacement gift in the form of 500 000 crystals!
And at the end of the Tanki Trip, on September 2, we'll be having a livestream with a special prize draw. Those who bought the bundle will be in the chance to win a Nokia 4.2 smartphone or one of 3 Tankoins prizes.
In an upcoming post, we'll be telling you more about what you can expect to find in the lovely city of Vilnius, as well as additional details about the meetup.
In the meantime, feast your eyes on this fantastic view.
Keep following the official news!
Discuss in the forum