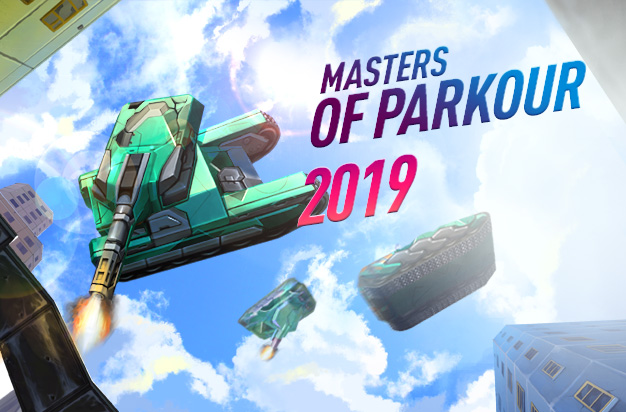 Tankers!
Masters of Parkour 2019 is finally ready for its most anticipated stage: the Finals! it will be streamed live at 17:00 UTC May the 24th on the Official Tanki Online YouTube channel.
Eight Teams were chosen as the most skilled and creative parkour people of 2018 2019. These teams were simply outstanding. The overall quality of the entries was beyond expectations.
Please welcome the eight best teams and potential finalists:
*The player I.Dynasty / Dynasty has been disqualified for participating with multiple accounts and will not be allowed to attend the finals.
Each of the finalist teams will receive the MOP 2019 paint, at least 20 000 Crystals and 10 Containers.
You can find their videos in the official forum thread.
We would also like to mention some honorable entries who will receive the Master of Parkour 2019 Paint as consolation prize:
Pain, Lil.Guy, No.Excuse, Budy — video
Mr.Designer, Infi, Aww, Sold — video
Modesty, Dual, ARMENIA_G, 6e3yMHbIU_CkU.JI.JI — video
Congratulations to all these teams!
Moving on to other pressing matters: The Finals
Finalists, pay attention:
The 8 finalist teams will have 24hr to confirm whether they are attending the finals, if they are participating, they must ensure that at least 3 members can be present during the entire stream.
In case a team forfeits their place in the finals, they would still get to keep the MOP paint. Their place will be filled up by the next team from the runner-ups. We will also reach out to the runner-ups, just in case, if they will be available.
Attention! If a finalist team confirms their presence in the finals' stream then isn't present, they will lose ALL their rewards forever.
About this year's livestream…. It is going to be something SPECIAL, do not miss it.
Discuss in the forum