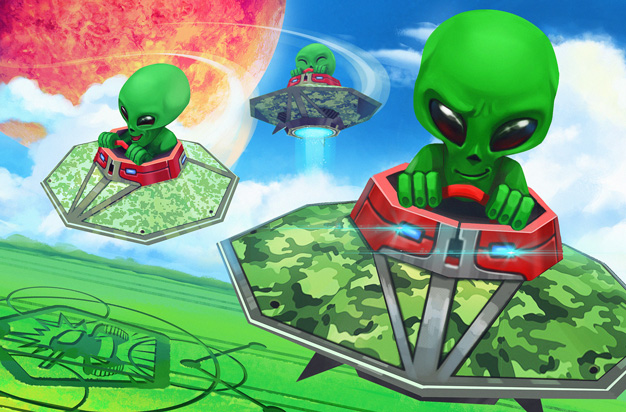 Tankers!
Do you believe in aliens and UFOs? We do, and with the World UFO Day in Tanki we invite you to believe in extraterrestrial life too!
From 02:00 UTC July 3rd till 02:00 UTC July 9th a special meteorite shower will descend upon Tanki, UFOs will fly above tanks instead of drones, maps will be covered in evidence of alien origin and you will be able to disguise your tank as a creature from another universe! Also in the game you will find discounts in the Garage and in the Shop! Intrigued?
Holiday decorations
During 6 days of the celebration you will find objects from outer space on all maps:
Holiday paint with a special texture (available only during the holiday, can't be bought);
Holiday billboards on all maps;
Holiday parachutes for supply drops;
Holiday flags in CTF and ASL;
Holiday Gold Boxes and drop zones;
Holiday gifts.

Meteorite shower
From 02:00 UTC July 3rd till 02:00 UTC July 9th a meteorite shower will appear in Tanki, and in all Matchmaking battles instead of Gold Boxes meteorites will fall down! At the place of impact you will find a special present from our alien guests — a Gold Gox or a container. And the cherry on top — during the holiday Gold Boxes will drop 10 times more often, get ready for a true meteorite shower!
Also, Gold Boxes dropped by players in Machmaking battles will become meteorites too!
NOTE: in PRO-battles during the holiday regular Gold Boxes will continue to drop.
Flying saucers
Did you ever dream of seeing a UFO with your own eyes? From 02:00 July 3rd till 02:00 UTC July 9th you will finally be able to! During the full duration of the holiday the visual appearance of all drones will be changed to UFOs, piloted by an alien charging the owner with the energies of the dark cosmos.
Discounts
Such unearthly holiday as the World UFO day should not be celebrated without discounts!
Don't miss your chance to save on items during the event:
From 02:00 UTC July 6th till 02:00 UTC July 7th:
Shop sale. 30% discount on crystals, days of Premium, paints and kits.
From 02:00 UTC July 7th till 02:00 UTC July 8th:
Garage sale. 30% discount on turrets, hulls, paints, modules, supplies and alterations.
From 02:00 UTC July 8th till 02:00 UTC July 9th:
Upgrade sale (including drones). 50% discount on MicroUpgrades and SpeedUps.
NOTE: discounts don't apply to gifts, PRO Battle pass, kits in the Garage, drones, batteries, clan license, Rename Pass, special offers in the Shop, Gold Boxes, containers and minimal sized packs of crystals and Premium.
Special offers
From 02:00 July 3rd till 02:00 UTC July 9th you will find in the Shop 3 new special offers, one of which contains animated paint!
Special Offer №1:
new thematic animated paint
15 containers
25,000 crystals
Special Offer №2:
5 containers
300 of each supply (except Gold Boxes and batteries)
100,000 crystals
Special Offer №3:
50 Gold Boxes
5 containers
10,000 crystals
New XT-skins in the Shop
And the most exclusive part, with server restart on July 3rd a new special offer with XT-skins for Wasp and Firebird with 100,000 crystals will appear in the Shop. These skins will also be added to containers. At the same time the previous offer with skins will be removed from the purchases, and from that moment you will be able to get Viking and Thunder XT-skins same as Hornet and Railgun XT-skins — only in containers.
Launch the game, be the first contact the alien mind and have an awesome holiday!
Discuss in the forum