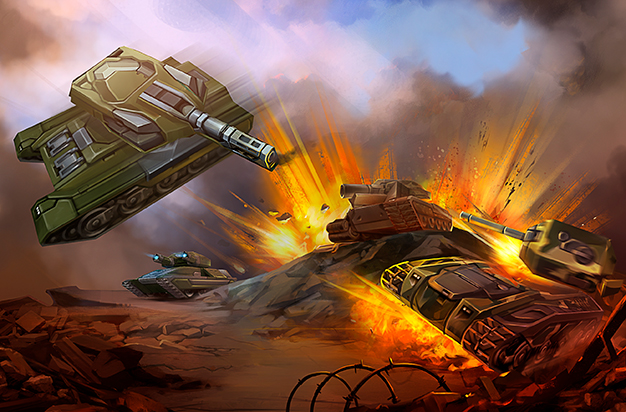 Tankers!
Summer is heating up and this means every weekend is even hotter, so we decided not to miss out on the fun and launch another Crazy Weekend!
Here's what awaits you from 02:00 UTC June 23 till 02:00 June 25th.
Discounts
Of course, what Crazy Weekend can do without sales?
Saturday — from 02:00 UTC June 23rd till 02:00 UTC June 24th
-25% discount on items in the Shop. Discount applies to crystals, kits, Gold Boxes, days of Premium and paints.
Sunday — from 02:00 UTC June 24th till 02:00 UTC June 25th
-25% discount on items in the Garage. Discount applies to turrets, hulls, paints, modules and supplies.
-25% discount on MUs and -50% discount on SpeedUps.
IMPORTANT: discounts do not apply to drones, batteries, PRO Battle Pass, containers, clan license, Rename Pass, special offers in the Shop, drones and batteries kits, and the minimal sized packs of crystals, Premium and Gold Boxes.
Special Offer
During the whole weekend a special offer will be available for purchase in the Shop.
Special offer includes:
5 containers
300 of each supply (excluding Gold Box supply)
100,000 crystals
Don't miss your chance to save with the special offer available only this weekend!
Double Battle Funds
For 2 days, from 02:00 UTC June 23rd till 02:00 UTC June 25th, you will earn double battle funds in all Matchmaking, non-PRO battles! This means you get twice the crystals for each finished battle!
Crazy Weekend
And the most interesting will take place on the fields of tanks battles!
Win containers, days of Premium and the paint "Retina", and enter a special giveaway to win one of the 2 Dream Tanks! A Dream Tank is a fully upgrades tank with turret, hull and protection module of your choice, available at your rank, and it does include XT-equipment.
And to make the weekend even more insane, for the duration of the event special themed billboards, special holiday paint, Gold Box skins and drop zones skins plus parachute skins and flags were added to the game for all maps, including 3 new gifts in the game!
Details and Prizes
The event will be active from 21:00 UTC June 22nd till 21:00 June 24th.
Your goal is to make enough kills in standard, non-PRO battles within 48 hours. The more enemies you destroy in those 2 days, the bigger is your prize:
400-799 enemy tanks destroyed — 3 containers
800-1999 enemy tanks destroyed — 5 containers + 3 days of Premium
2000+ enemy tanks destroyed — 10 containers + 5 days of Premium + "Retina" paint.
Your current results you can track on the special site here. Kills are updated every 30 minutes, so if you don't see your new kills right after battle, please check back later.
During the first hours after the event is launched, TOP-10 players list on the site will be empty, until 10 or more players destroy 400+ enemy tanks.
Players who complete the kill tiers within 48 hours of the event will be guaranteed to get the prizes detailed above.
Also, among all tankers who destroy 800 enemy tanks or more, we will run a special giveaway for 2 Dream Tanks, and you can read more the giveaway in the full rules.
IMPORTANT: please read carefully the rules of the giveaway, posted below. They contain important information on how to participate in the event and when the prizes are delivered.
2 Dream Tanks
From the list of all participants, who destroy 800 enemy tanks or more during Crazy Weekend, we will randomly choose 2 players. Both players will receive a Dream Tank — any* turret, hull and protection module in the fully upgraded modification available at your rank.
Full list of players who successfully complete kill tiers and the names of the Dream Tanks winners will be published on Tuesday, June 26th.
Don't miss the crazy weekend, it's gonna be hot!
*available at your Rank on the day of the rewards
Discuss in the forum