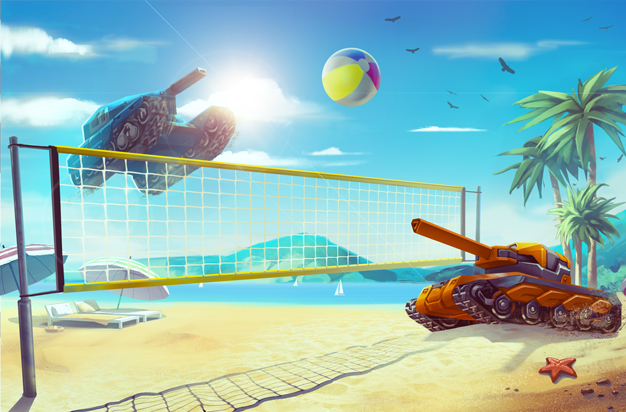 Tankers!
Has the summer heat gone up to your head yet? Well, it's about to get A LOT hotter this weekend with our special Summer Sale.
Here's what you can expect:
Discounts on Shop items on Saturday
Starting from Saturday's server restart at 02:00 UTC, Shop items will be discounted between 20% and 50% for 24 hours.
That includes Crystals, Premium (excluding the 1 Day package), Gold Boxes (excluding the 1 Gold Box package), Shop Paints, Shop Kits, and the "Supplies 1500" pack in the Shop.
Discounts on Garage items on Sunday
Then on Sunday, from 02:00 UTC, we'll be slashing 40% off turrets, hulls, protection modules, and alterations. Additionally, Micro-Upgrades will be at 25% off, while Speed-Ups will be at half price.
These discounts will also last 24 hours, and will end on Monday 7th August at 02:00 UTC.
More discounts, plus decorations and special missions for 48 hours
Throughout Saturday and Sunday, garage paints, supplies (does not apply to Garage Supplies kits) and gifts will be discounted during both days. Plus, we'll be having themed decorations, paints and gifts.
Additionally, Gold Boxes will be dropping 5 times more often!
We'll also be having special daily missions that will be tougher to complete, but that will bring you bigger rewards. As always, these Daily Missions can only be completed in non-Pro battles, and their rewards must be collected before 02:00 UTC on Monday 7th August 2017.
Special Bundle
And to complete these celebrations in style, we'll also have a special, Shop-exclusive bundle packed with great value. The bundle will be available for 48 hours, from 02:00 UTC on Saturday 5th, till 02:00 UTC on Monday 7th, and will contain the following:
A special Premium paint (available exclusively in this bundle)
5 days of Premium account
5 Gold Boxes
150 of each supply (excluding Gold Boxes)
130 000 crystals
If you were to buy the 130 000 crystals separately, they would cost more than THREE TIMES the price of the whole bundle, so this is one you don't want to miss.
So, make sure you log in early this Saturday, August 5th to check out all the cool in-game goodies and sales that we've prepared especially for you.
Have fun!
IMPORTANT: Sales DO NOT apply to Clan licenses, XT items, and the Summer sale bundle.
The discounts calendar can be found in the official forum thread.
Discuss in the forum