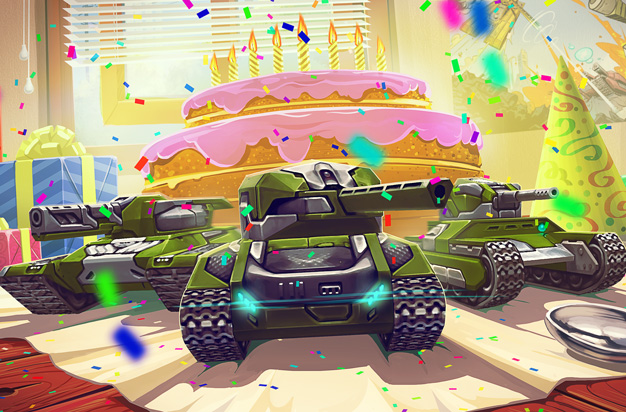 Tankers!
Tanki's 8th Birthday celebrations are at the doorstep, so between 02:00 UTC on June 2nd, and 02:00 UTC on June 7th, we've got a ton of cool stuff coming!
We'll be having 20% to 50% discounts on most items including garage equipment, MUs & SUs, Paints, Supplies, Gifts and Shop items. Whatever's on your wishlist, there's a good chance you're gonna get a good deal on it!
Of course, we'll also have themed decorations including billboards, parachutes, flags, Gold Box skins and drop zones, garage decorations, special holiday paints, and also special daily missions (regular, non-PRO battles only) with bigger rewards.
More importantly, Gold Boxes will be dropping twice as often!
If you're looking for a super sweet Shop deal, there will be two special holiday bundles in the Shop, both of which will contain Premium Account time, Gold Boxes, Supplies and Crystals. One of them will even contain a cool Premium paint.
Additionally, for the duration of the festivities, we'll be bringing back the ZERO Supply mode we tested some time ago, along with a few tweaks and changes to make it better.
ATTENTION: Make sure you log into the game on Tanki's Birthday on June 4th for an extra special reward that includes 24 hours of Premium account, 2922 crystals and 8 of each supply (excluding Gold Boxes)!
For the full details on discounts, timeframes, ZERO Supply mode, as well as terms and conditions, check out the full announcement on the forum!
Discuss in the forum