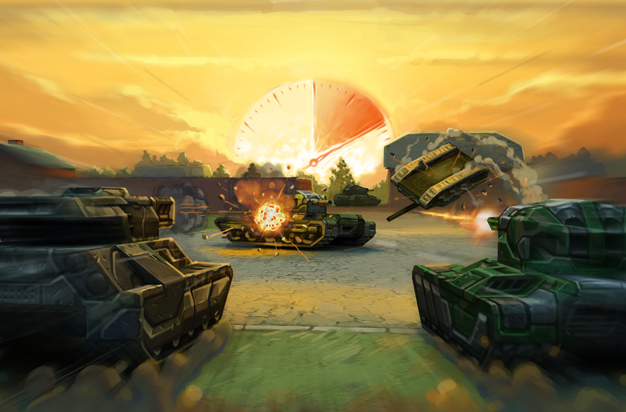 Tankers!
This week's update comes a bit earlier and holds quite a few interesting features. Here's what you can expect to see in the game after tomorrow's (Wednesday 29th) server restart at 02:00 UTC:
Upgrade steps for M2 and M3 reduced
Upgrades step for M2s will be reduced from 50 to 10, while those for M3s will be reduced from 50 to 20. As with M0s and M1s, this was done so that you can get a more significant change with every MU step. Additionally, as with the MUs on M0 and M1 modifications, the total price for upgrading your M2 will now be equal to buying the stock version of an M3.
Please note that these changes apply to all turrets, hulls and modules (module MU steps will remain the same but prices will work differently).
Bigger rank brackets when creating battles
The rank brackets when creating battles will be increased. This means you'll be able to create battles for a larger number of ranks.
Daily Missions
Rewards for Daily Missions will be increased by 10%. However, after the update, Daily Mission objectives will only be achievable in non-PRO battles.
Fixes for Magnum
As with any new feature, the first week with Magnum has uncovered a number of bugs. With this update, we'll be squashing a number of them.
Critical Errors disabled
Up until now, when the Tanki Online client received a "strange" instruction, it would spit out a Critical Error and throw you out of the game. With this update, we'll be disabling the Critical Error.
Be advised that this will uncover a number of bugs in the game. However, this is intentional, and will help us discover more of the circumstances that trigger Critical Errors, so we can eliminate them.
Additionally, while the bugs will undoubtable be an annoyance, none of them are as bad as being thrown out of the game and losing your battle fund.
Of course, we'll be working as quickly as possible to eliminate bugs as they come up. In the meantime, if you have any bugs to report, you may do so in this special thread on the forum.
For more details about this release, please check the Patch Notes.
Discuss in the forum