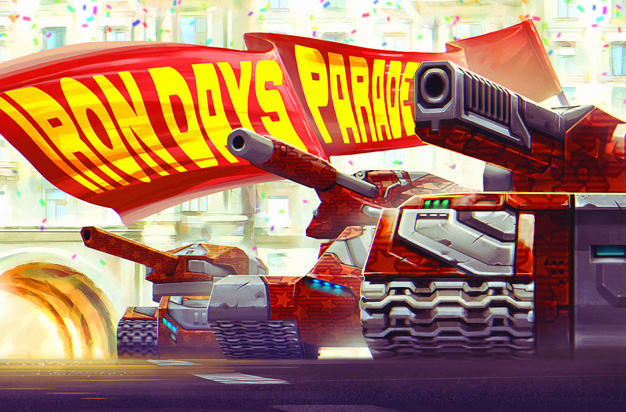 Tankers!
For this year's traditional Iron Days celebrations, we asked you to bring your friends together and shoot a spectacular Iron Days parade… and win crystals.
Now, it's time to announce our winners. The top 10 teams with the best parades have already been rewarded with 30 000 crystals per member! The winning entries are below.
blechkiste, Own_Charm, K1NG_LUM1N3R, Skellett1, lukiluk1234, blechbums, Chains.of.Pain, GalaxyTizi, x-x.Ov3rPoW3rT.x-x, Mr.Saint-Angel, General_Dietl1

lekso2001, Devil3_EN, yuliashvili, linnes, toress9, dudu_don, cmad, gios_temos, l3lood.Of.Georgian, KoPoJI_6.e.3_KoPoHu, V.a.N.s.K.1, TheFrenZee, ll.o.O.badboy.O.o.ll

oOo_B.L.L.O.A.D_oOo, tasPRO136_tanki, jordy660, Yazva, m.w.r, kned, theodoreorg21, DJ_Lesenek, Perfect_Penetration, KOUKISAIDD, H4PPY_GENlUS, ActionLemon, Lankero, xaris52

katekizem, jox99, MA3CTPO_HA_XAHTEP, skeletorXVIII, generalslovenija1, I.LimitedEdition, xsx-tigers, sterre933, Best, D.e.a.d.6.o.d.y, Sr.I3oSS, Mark.Zuckenberg, sotostilis

Tajender_Singh_TS7, S-A-R-K, S.U.K.H.W.I.N.D.E.R, Skill.of.gun, AaquibHulk, ELITE3333, I_Nith_I, iN.O.O.B

Just.A.Ghost, I.invader, ultimatesusan, indiankiller1, I.Soft_Smoke, Leohunter, II_P.r.0.t.e.c.t_II

LEGOminore, CrazyDudeTO

LegitSkall, THE-MASTER-H, 3dcc8, A300123, gold_box332, jirka603, Unstoppable_Luck

xXpowerdynamixXx, StuntmanJadside, muffinman360, GameLord_tanker, Chuln, Amy85, tdm_venturer, Supermandope101, Aazii_Awsome

dkchamp, EARTH_QUAKE_3000, bobby-bonga, lausaj, ronald1143, sreeku_PRO, ash77710, raoufcscs, War-Commander-82, yakko123, dragon_terminator1

Thank you all for participating and showing your enthusiasm for the Iron Days. We hope you had a great time with the celebrations, in-game goodies, and parade contest!